Keep Production Moving with a Proven Automation Solution
Seegrid has an extensive history within the automotive space — currently supporting five of the top ten global OEMs and three of the top five automotive suppliers. Our team of experts have worked closely with global automotive brands to develop custom recommendations aimed at optimizing operations.
Seegrid takes a holistic approach which includes application design, implementation, and support to ensure each customer site has well-designed applications and well-trained employees. Our dedicated support teams ensure you're realizing the fullest potential of your solution to increase production, reduce operating costs, and boost employee safety.
Navigating the New Normal with AMRs
Across the automotive industry, companies are dealing with production downtime due to extreme demand shifts and a shrinking labor pool. The need to operate efficiently, safely, and productively with less people is not only critical for today, but also necessary for continued success in the future as operations, challenges, and demands evolve.
To manage the fluctuating "now" and prepare for the constantly evolving "what's next," supply chains are turning to collaborative automation to add agility and the ability to adjust to changing needs. Manufacturing facilities need automation solutions that enable them to easily make changes when needed without completely overhauling, creating downtime, and overspending.
Seegrid AMRs increase throughput, improve safety, and reduce costs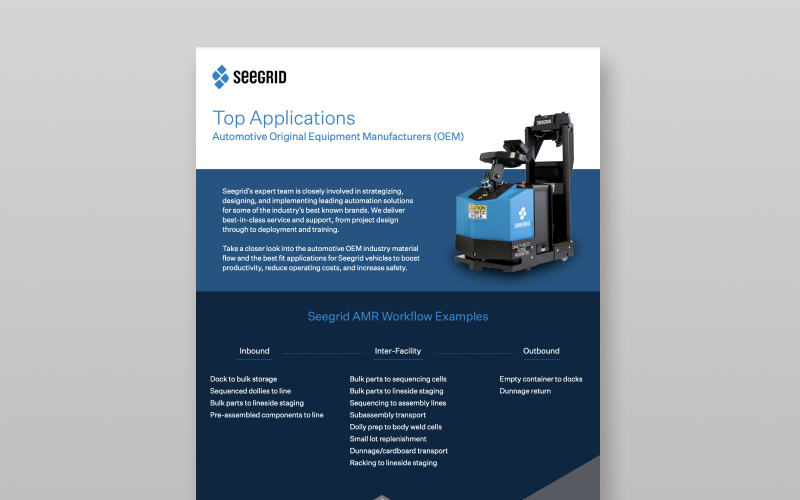 Top Applications For Automotive Original Equipment Manufacturers
This infographic takes a closer look into the material flow for automotive OEMs as well as some of the best applications...
We are passionate about delivering safe, flexible, and effective automation solutions that work.
Ready to explore how Seegrid could help?