Turnkey Automation Solutions for the Most Challenging Environments
Seegrid Palion™ autonomous mobile robots (AMRs), enterprise software, and industry-leading services teams are designed to help you achieve your material handling automation initiatives, making your facilities safer and more productive.
Automation Technology Delivered with an Expert Human Touch
Our customer-centric approach provides you with the services and support you need, when you need it. We are passionate about helping you experience the full potential and value of your automation investment.
Automation Solutions for Manufacturing
"The Seegrid solution is simple, highly effective, and presented the lowest risk of any other material handling automation available for our parts-to-line application."
Jim Keppler
VP, Integrated Supply Chain & Quality
Whirlpool Corporation
Productivity Solutions for Logistics
"It saves me a lot of time driving to and from the DSD area, and that frees me up to do more pallet picking and staging throughout the day."
Mike Key
Forklift Operator
DHL Supply Chain
Solutions for Warehousing
"At Zulily we are constantly changing, whether it's where materials are stowed or when we add new equipment. Seegrid has provided us with a flexible solution that can be implemented quickly while optimizing human labor."
Dwarakesh Jayaram
Senior Industrial Engineer
Zulily
Explore Automation Resources by Seegrid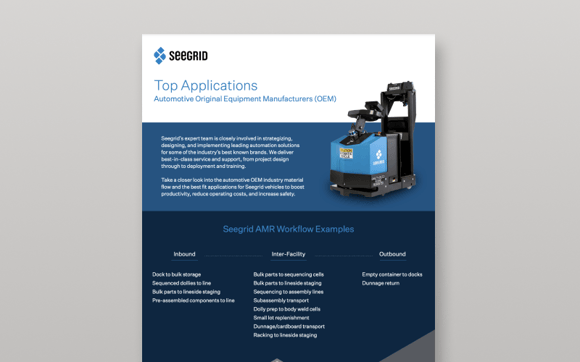 INFOGRAPHIC
Top Automotive OEM Applications
Download this infographic to take a closer look into the material flow for automotive OEMs as well as some of the best fit applications for Seegrid Palion AMRs.
GET MORE
Seegrid's Automation Resources
Visit our Resource Center to get the latest eBooks, infographics, and brochures that feature our autonomous mobile robots and enterprise software.